Seven months into the coronavirus crisis, the states with the most severe unemployment in the country all seem to have one thing in common: They vote blue.
In September, just eight states had jobless rates that were significantly higher than the nation as a whole, according to the Bureau of Labor Statistics. Each of them—New Mexico, Massachusetts, New York, Illinois, Rhode Island, California, Nevada, and Hawaii—was led by a Democratic governor and backed Hillary Clinton in 2016. These states did not suffer from unusually high unemployment rates before the pandemic began, but now are facing rates ranging from 9.4 percent up to 15.1 percent, compared to 7.9 percent nationally.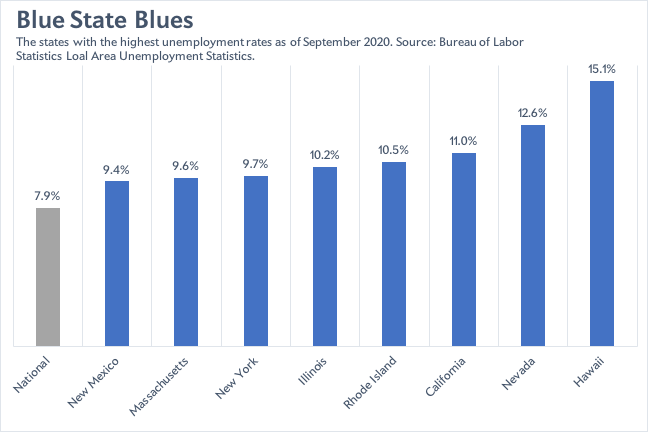 By contrast, the states with the lowest unemployment last month tilted red: Of the bottom 1-—Nebraska, South Dakota, Vermont, North Dakota, Iowa, Missouri, Utah, South Carolina, Montana, and Oklahoma—eight both had a Republican governor and backed Donald Trump in the last election. All had jobless rates below 5.4 percent.
Even if you turn your attention away from the extremes, it's clear that the economic damage has been significantly worse overall in Biden Country, where employment has fallen 8.6 percent, than in Trump country, where it's down 4.6 percent, according to an analysis by Indeed.com economist Jed Kolko.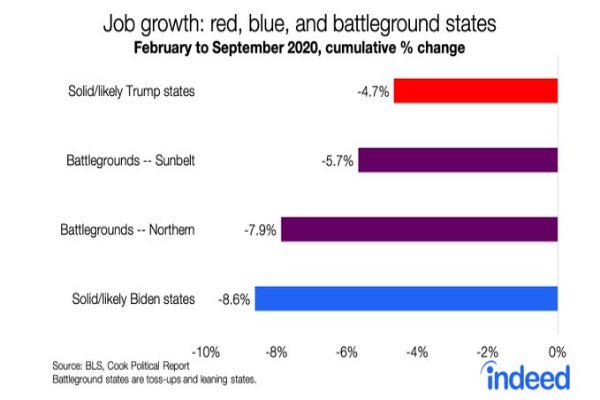 One consequence of this split is that states dominated by Democrats are facing somewhat deeper budget problems than ones led by Republicans, because the crisis has done more damage to their tax bases. Early in the crisis, it wasn't at all obvious this would be the case. But recent projections from economists at Brookings, the Federal Reserve, and the University of California Berkeley suggest that, while almost all states are facing large revenue shortfalls next year, the largest will be in New York, Washington, California, and Hawaii. State and local aid wouldn't be a "blue state bailout," as Senate conservatives have claimed (Texas, Georgia, and Louisiana are facing plenty of fiscal challenges of their own). But deep blue states are in especially dire need of help.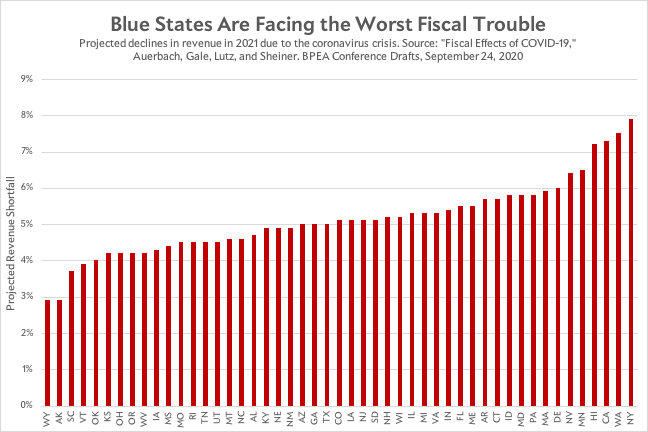 Why, exactly, has the economic devastation been worst in liberal corners of the country? Unfortunately, there isn't a clear, consensus opinion among experts, and not many economists have tried to carefully probe the issue yet. "We don't know, in an econometric sense," Alan Berube, deputy director of the Brookings Metropolitan Policy Program, told me. Still, there are several possible causes—ranging from the kinds of lockdowns governors have…


Read More: Why blue states' economies are suffering more than red states right now.