Jim Jordan Calls 1/6 Committee 'Political Operation' to Stop Trump 2024 Run
Representative Jim Jordan, an Ohio Republican, slammed the House select committee investigating the January 6, 2021 attack against the U.S. Capitol, calling it a "political operation" designed to stop former President Donald Trump from running for the White House again.
Jordan was asked to testify before the House select committee regarding the events of January 6, but the GOP lawmaker refused to comply. "Even if I had information to share with the Select Committee, the actions and statements of Democrats in the House of Representatives show that you are not conducting a fair-minded and objective inquiry," he wrote in a letter to the committee last week.
During a Sunday morning interview with Fox News, Jordan was asked about the request from the committee and his refusal to testify.
"I think anyone with common sense would be reluctant to go talk to this committee. They've already proven that they will alter evidence and lie to the American people about it," the Trump loyalist said.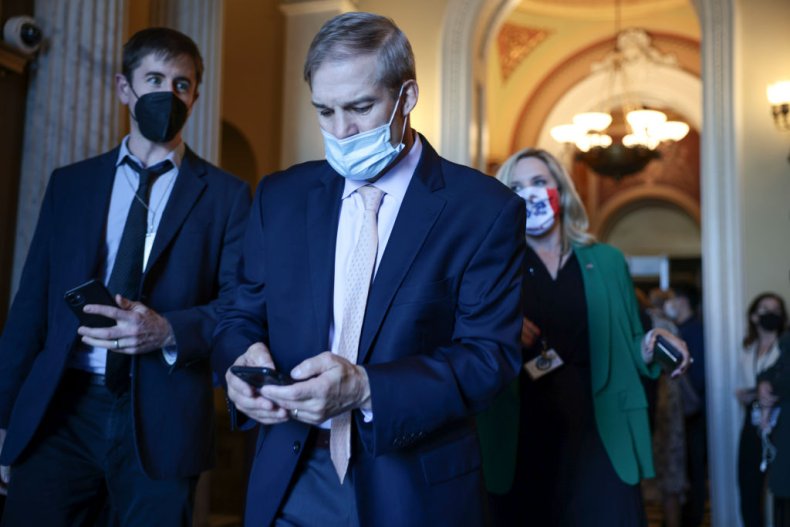 Continuing his criticism, Jordan said that "everyone in the country sees this as a political operation. This is designed to get after President Trump. Because they don't want him to run again." The Ohio lawmaker predicted that Trump "is going to run again and I think he's going to win."
Trump has not confirmed whether he plans to launch another presidential campaign for 2024. However, the former president has repeatedly hinted that he aims to run for the White House again. He has said that his supporters will be "very happy" with the decision he makes.
Jordan's claim that the House select committee altered evidence is exaggerated. The GOP congressman appears to be referring to a text message—which he sent to Trump's then-White House Chief of Staff Mark Meadows ahead of the January 6 violence—that was released publicly by the committee in December. The committee released only part of the text message and did not identify Jordan as the sender.
The Ohio Republican later confirmed that the text message was forwarded to Meadows from him and criticized the committee, accusing them of altering the evidence. However, as Newsweek previously explained in a fact-check, there is no evidence that the decision to publicize only part of the message was made in order to mislead. The change does not alter or distort the meaning of the message. Instead, it appears the message was only cut short for the sake of brevity.
The forwarded text message in question laid out a strategy to unconstitutionally overturn President Joe Biden's election victory over Trump. As a result, some have described Jordan as a "traitor" for sending the message to Meadows.
"Look, Jim Jordan is a traitor. He's a traitor to the Constitution of the United States. He has been a traitor to the Constitution of…


Read More: Jim Jordan Calls 1/6 Committee 'Political Operation' to Stop Trump 2024 Run